The Briefing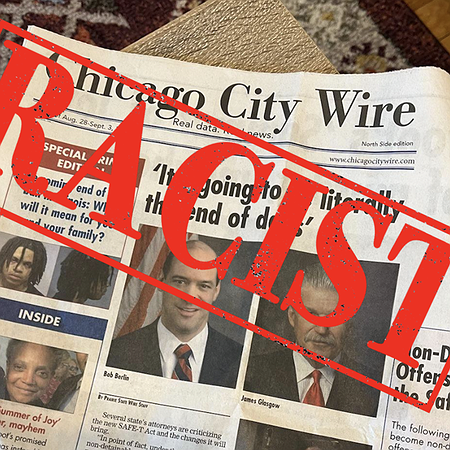 In September 2022, households across Illinois were delivered a fake newspaper published by radio personality Dan Proft, whose the People Who Play By the Rules PAC has targeted the Pretrial Fairness Act as a way to criticize elected officials who supported it. The PAC has largely been funded by Trump mega-donor Richard Uihlein.
The racist mailer was riddled with misinformation about the Pretrial Fairness Act. Variations of the deceptive mailer were targeted to local communities under titles such as "Chicago City Wire" and "DuPage Policy Journal." Instead of engaging in a serious debate about pretrial policy, Proft has chosen to blow his racist dog whistle while spreading misinformation meant to confuse Illinoisans about the impacts of the law. This is not the first time Proft has relied on lies and racism to make his arguments. In August 2022, Proft's PAC released a video featuring darkened images of Chicago Mayor Lori Lightfoot along with misinformation about the Pretrial Fairness Act.
Fortunately, many news outlets across Illinois and the country engaged in rigorous analyses of the claims being made by Proft and Uihlein's racist misinformation campaign. While media outlets published detailed explainers of the Pretrial Fairness Act, attempts to confuse the public about how the law works and undermine its success are increasing as the state prepares to implement the final provisions of the law in January 2023.
What is the Pretrial Fairness Act?
In February 2021, Governor JB Pritzker signed the SAFE-T Act (Public Act 101-0652) into law. Included in the legislation is a set of provisions relating to arrest, pretrial release, and pretrial incarceration known as the Pretrial Fairness Act. The Pretrial Fairness Act makes Illinois the first state to fully eliminate money bail. The law was passed in response to the Black Lives Matter protests of 2020, which followed years of organizing led by the Illinois Network for Pretrial Justice that mobilized thousands of people across the state in the fight for pretrial fairness.
The Pretrial Fairness Act will ensure that everyone has access to the presumption of innocence—regardless of their financial status—and reduce the number of people jailed while awaiting trial in Illinois. When people are jailed, even for short periods of time, their lives are significantly destabilized. Time in jail causes people to lose jobs, custody of their children, and housing. This destabilization impacts entire communities and makes all of us less safe in the long run. People who spend any period of time in jail are over 30% more likely to be arrested in the future compared to people with the same backgrounds who are released awaiting trial. People who are jailed pretrial also receive longer prison sentences than similarly situated people, further contributing to mass incarceration.
The Pretrial Fairness Act replaces the current wealth-based system, which relies almost exclusively on how much money a person can access, with a new decision-making system that determines pretrial release or detentions based on an evaluation of whether an accused person poses a threat to another person or is likely to intentionally avoid prosecution.